It appears that today is national Random Twilight Cast Videos Day and I just didn't know it. I don't know where this clip came from or why it was made (I'll dig up some more info on it later), but it involves Kellan "Kittlez" Lutz, a tuxedo, and a big scary yellow chainsaw:
When I figure out what it all means, I'll get back to you. It's wierd and slightly nonsensical while out of context, but I'm intigued by things like that. Plus it has Kittlez in it, which automatically makes it kool with a "K".
Recent Edit:
So I just learned from TwilightSeriesTheories.com that Kittlez recently did a photoshoot with Tyler Shields:
"INSANE!!! Crazy night shooting Kellan Lutz last night there was a chainsaw crazy dogs homeless people black widows and he even hit me with a sledge hammer… There will be video coming soon. So make sure you check back for that. If you do not know Kellen Lutz he was in Prom Night, 90210, Generation Kill and he is also in the upcoming Twilight movie with Ms. Ashley Greene."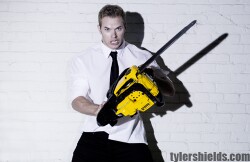 Ah, a photoshoot. That explains it's artistic randomosity.