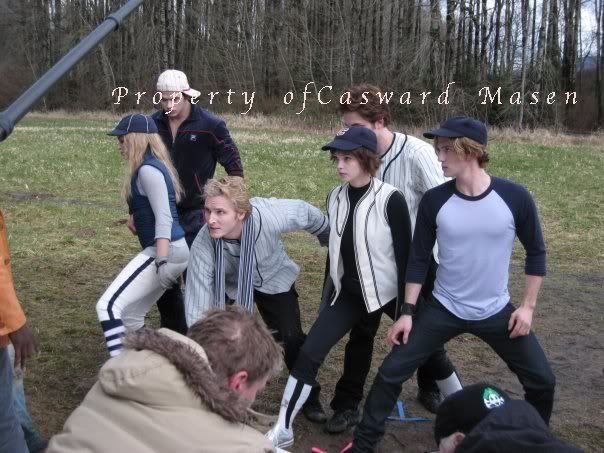 Oh my Edwardness, I'm in love with this picture! ♥
Emmett looks like he's staring at Rosalie's behind.
Rosalie looks like she's attempting to break it down like a gangsta.
Carlisle looks like he's demanding in his mind how much longer he has to squat like that.
Alice is just like, "Uh, how's this position? Baseball-y enough?"
Jasper looks like he's posing as a swimsuit model...without the swimsuit and in the middle of a field on a cloudy day.
YOU CAN'T SEE EDWARD'S FACE. ;( *sigh* But I'm sure it's bea-u-tiful.
Credit: Not exactly sure. I saw it on Twilighters.org and immediately had to share it's amazingness with my pathetic number of visitors. (I love you guys, by the way, whoever you are!)
Twilight, New Moon, Eclipse, Breaking Dawn, Midnight Sun, Robert Pattinson, Kristen Stewart, vampire, Edward Cullen, Bella Swan, Twilight Movie, Stephenie Meyer, Edward's point of view